Get the Look5 Chic Bathroom Ideas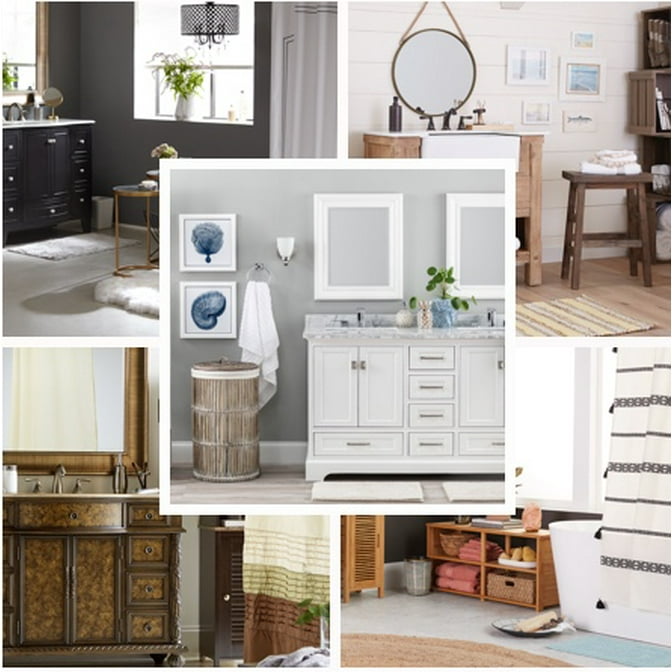 Get the Look5 Chic Bathroom IdeasBathrooms are essential to our everyday lives. We get ready, wind down, and start fresh in this room. So, it's important that we design these spaces to be the luxurious, relaxing, and functioning oases that we need. To help you brainstorm about decorating this room in your home, I am sharing my favorite five chic bathroom ideas. Covering a range of styles, these style solutions will help you discover what you can do with your bathroom today.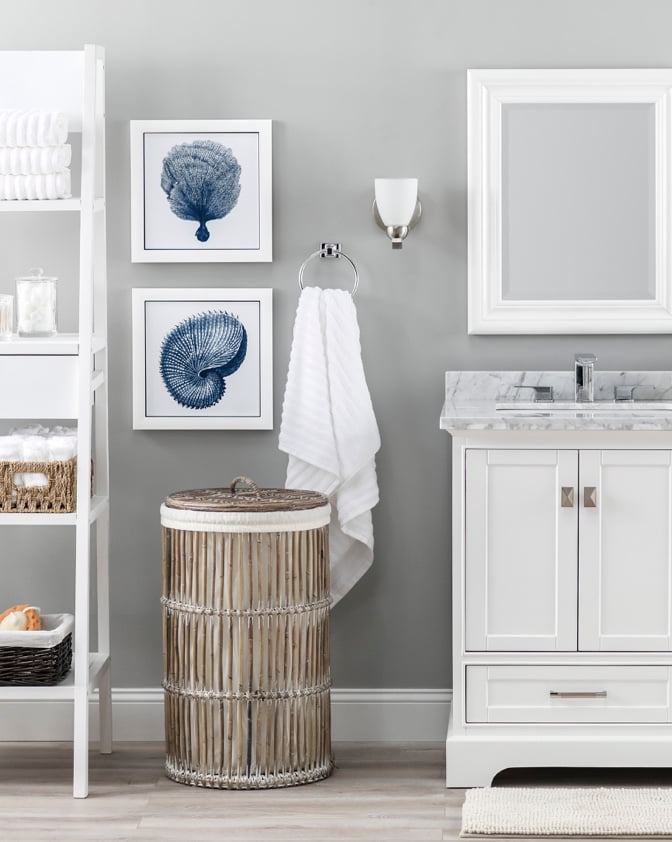 1. Coastal calm bathroomThis is one of my favorite bathroom decorating ideas. What's more relaxing than a coastal atmosphere? And, with the expertly curated collection of items featured in this look, everything feels chic and updated. Here's how to get this coastal bathroom look: Start with your furnishings. Choose white cabinetry and shelving to reference those white sand shores. Next, pair these designs with blue accessories like towels, sea shell artwork, and a vase. Warm the room up with organizers made from natural materials like bamboo or rattan. I really love the look of lighter, washed-out bamboo. Bring that feel of luxury with plush towels and sleek chrome hardware. Display toiletries like cotton balls in glass jars and complement them with more decorative bath crystals.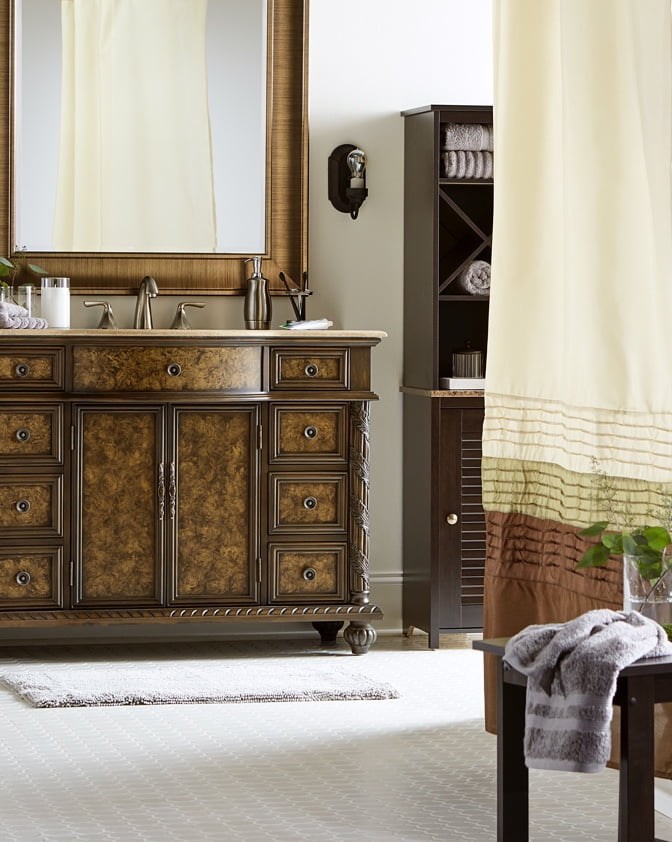 2. Classic traditional bathroomThere's something to be said about the traditional aesthetic in bathrooms. It not only looks beautiful and timeless, but also provides ample storage for all of your toiletries. Our twist on the traditional bathroom gives you that comforting style with an updated edge. To get this bathroom look, use beautiful, wooden cabinetry to provide a sophisticated aesthetic as well as storage space. Closed storage helps to create the illusion of a more spacious bathroom. Use bronze hardware to maintain the traditional design aesthetic while updating with crisp white walls and plush bathroom rug.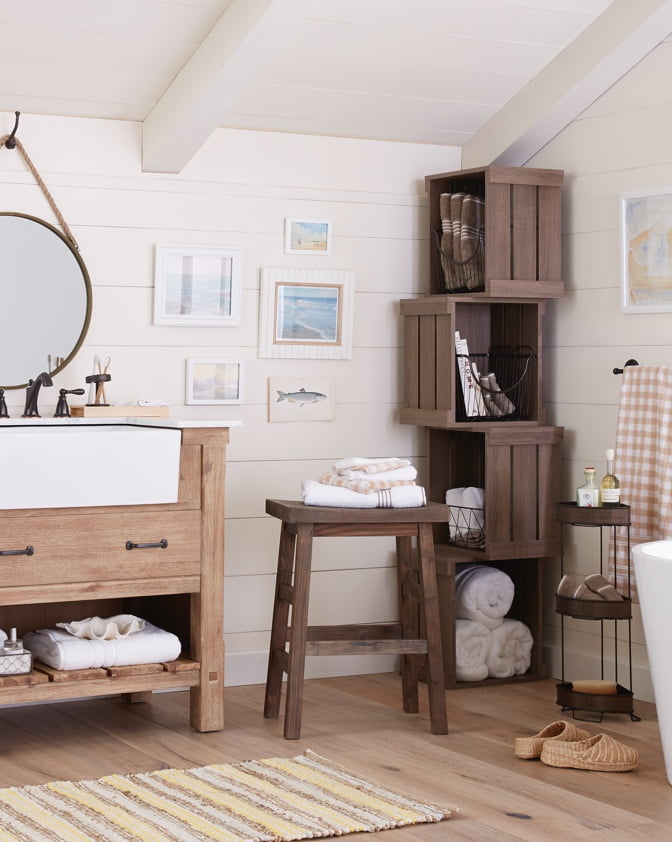 3. Farmhouse chic bathroomThere's something so comforting about the farmhouse style. It's been revamped and reinvented time and time again, and somehow each time, comes together to form something new and interesting. For this bathroom idea, the farmhouse elements have been used to create to create a quaint setting that has the lived-in feel of a farmhouse with luxurious touches that you'd find in a spa. To get this bathroom look, start with a standout farmhouse sink. These deep sinks are quintessential to the style and will bring the rustic look into your home. You should also incorporate varied wood tones, from darker wood grains to lighter and more weathered touches. We love how the shelf in this bathroom repurposes wooden crates. Finally, black hardware will help to modernize the room—ensuring it feels like a relaxing oasis instead of an actual barn.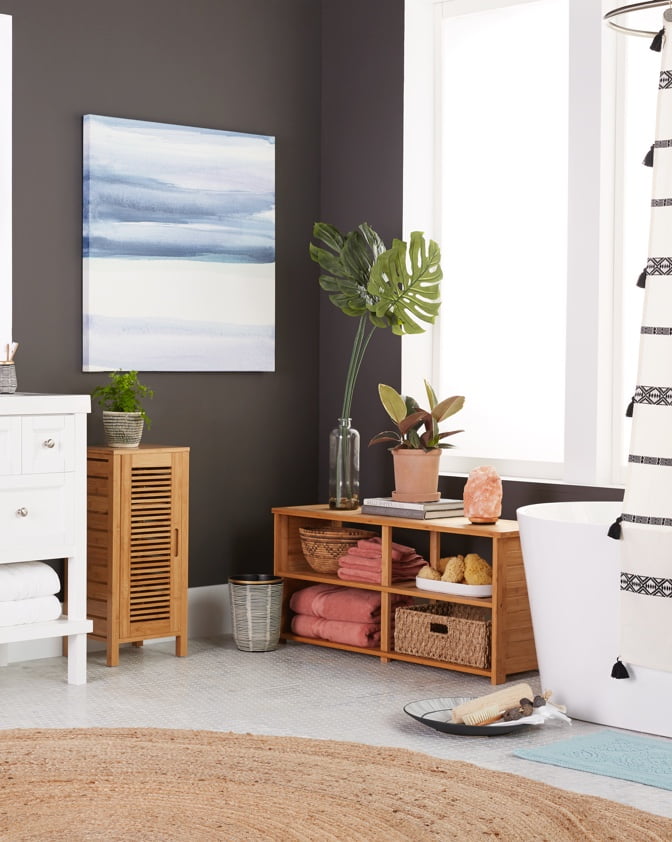 4. Contemporary boho bathroomThis bathroom idea is a bit of a mish-mash of styles with the eclectic, global feel of boho and chic contemporary accents. They all play off of one another beautifully and fuse together to create a style of their own. To recreate this bathroom look, you'll want to start with your palette. Keep furnishings to two tones: white and natural. Then, bring in fun accessories like a Better Homes and Gardens tassel shower curtain and a hexagon gold mirror. Use pattern and texture to create that eclectic feel, as opposed to bright colors. Finally, don't be afraid to bring some greenery into your space. With your bathroom's neutral palette, house plants (or even faux Montserra leaves) will bring in that boho feel and rejuvenate the energy and vibes in the space.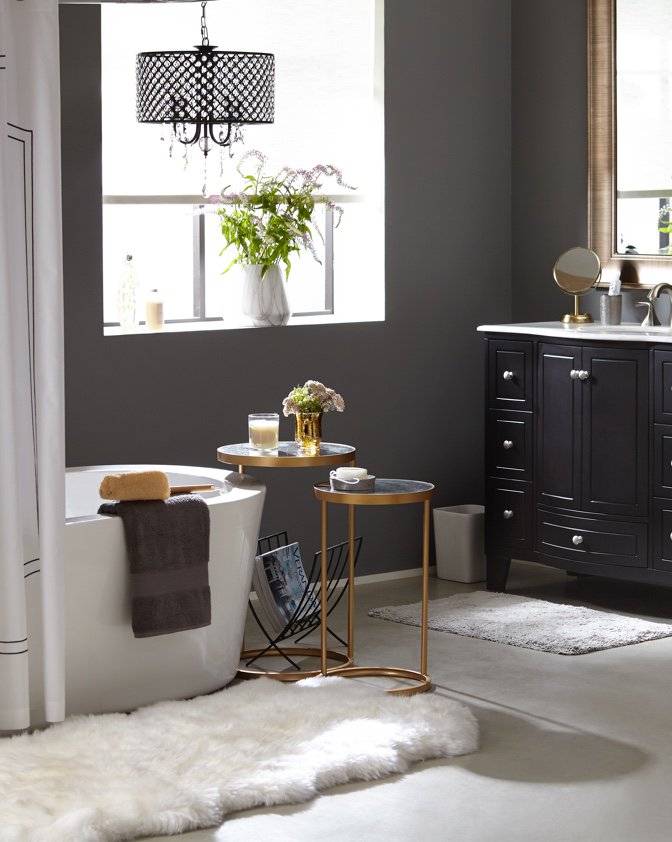 5. Moody glam bathroomFor a more dramatic bathroom idea, look no further than this moody modern glam iteration. It's bold and dramatic and adds instant visual appeal to your space. Here's what you'll need to bring this bathroom idea to life in your space. Your color palette is key for this look. Dark cabinetry (and even dark walls if you can manage it) will create that moody, intense look. This is then offset with gold, glamorous accents like shimmery side tables and a large shiny mirror. Because the palette is so dramatic, you'll want to introduce other elements that make your bathroom feel elegant and luxurious. Thick, plush towels, a draping chandelier, a hotel-inspired shower curtain. All of these accessories will boost the luxe factor.